by Studentofthegun
This post has been a long time coming.  For a few years, I've been using an email I typed up to answer an inquiry about bargain optics.  It included my recommendations along with pictures and links to products.  The email is outdated now, so it makes sense to make a blog post.
First, I want to set anyone's expectations about this post correctly.  I'm not an expert on optics and I am not claiming to be one.  However, I've been exposed to quite a few different options in lots of different price ranges.  What I'm focusing on here are "bargain" optics, i.e. things that aren't all that expensive but are functional and reliable based on my experience.  The old adage "you get what you pay for" is absolutely true.  My recommendations here are not exceptions to that rule.  Yes, I've got a $40 Simmons red dot that has given me over decade of great service.  I finally gave it to a friend to put on his wife's rifle (which incidentally gets used in 2 gun rimfire matches).  But that isn't the optic I recommend if you want to put it on an AR-15, and goodness forbid, have to actually use the thing to defend yourself.  So I'm going to break this up into three parts.  The first will be red dots that offer a decent value if you intend to use them on an AR-15 or a short range rifle or carbine.  The second part will deal with variable power scopes for AR-15s.  The third will address scopes for longer ranges, i.e. 200+ yards and scopes that are good for precision .22LRs.
This review won't mention Nightforce, IOR Valdada, US Optics, Schmidt and Bender, or Swarovski.  This is strictly for people who are primarily punching holes in paper, i.e. casual shooters looking for inexpensive but functional equipment suggestions.
Bargain Red Dots
When it comes to bargain red dots, my first choice is Primary Arms.  The prevailing factors are price, quality, and the great customer service that Primary Arms offers.  Even if I were to buy an Aimpoint, Vortex, Trijicon, etc., I would still buy it from Primary Arms based on their customer service.  That said, Primary Arms has their own line of red dot scopes.  I believe most, if not all, of the Primary Arms branded scopes are made in China.  Pretty much all of the sub $100 red dots are going to be made somewhere overseas.  That said, I really do like the Primary Arms branded red dots.  I've used them on AR-15s with no problems.  I've been using one on my 2 gun rimfire rifle and it has held zero through four matches now.
Before we get into my recommendations for red dots, I want to first talk about my personal preferences with regard to how the red dot and backup iron sights are aligned, which is referred to via the term "cowitness".  The two primary types are "Absolute Cowitness" and "Lower 1/3 Cowitness".  The best way to show the difference between these two approaches is with this diagram:
Diagram credit here.
The Lower 1/3 Cowitness is my personal preference because the iron sights obscure less of the target and the area around the target.  Usually the only sight that presents an issue is the front one if it happens to be a fixed post.  For those that have flip up front and rear sights, this is less of an issue.  One simply folds them down out of the way and the problem is solved.  But I have had some people that have fixed front and rear sights.  For those reasons I always go for the Lower 1/3 Cowitness.
Here are my recommendations based on my own experience as well as the experience of many of my friends and acquaintances
1.Primary Arms Micro Dot with Removable Base.  Click here for direct link.
One of the really nice things about the Primary Arms website is that you can pick your mount via drop down options.  This is one of the most convenient websites for buying optics.  My personal preference is a riser that provides a Lower 1/3 Co-witness.  This refers to the alignment of the red dot with the rifle's backup iron sights.
2. Primary Arms 30mm Red Dot.  Click here for direct link.
Anyone reading this familiar with Aimpoint optics will immediately notice that the Primary Arms products look like Aimpoint clones.  Of course, they are not the same quality as Aimpoint.  They are also a lot less expensive.  This one will also require a mount, which can be chosen from the drop down menu on the Primary Arms website.  This red dot is a bit bigger than the Micro Dot.  It's still a nice optic for less than $100 (including mount).  Note that this requires a ring, not a riser.  My suggestion would be the Primary Arms High Cantilever 30MM Mount if you're looking for the least expensive but functional mounting option.
3. Vortex SPARC II.  Click here for direct link.
Photo credit here.
The Vortex SPARC is, by some accounts, a higher quality product than the Primary Arms, but is still less expensive than the Aimpoint or EOTech options.  (EOTech is having some customer service issues at the time this is being written, so I advise caution if considering any of their products).  When the SPARC II is on sale it is not that much more than the Primary Arms.  Personally, I think the differences are slight, but Vortex also has a solid warranty and good customer service.  For me, it would come down to personal preference.
4. Holosun Paralow HS403g.  Click here for direct link.
I've heard some really wonderful reviews of the Holosun products by competitive shooters.  Some have said the clarity of the glass and crispness of the dot is on par with the Aimpoint.  I've looked through a few of them and would agree that they seem to be quite nice for the money.  Note that this would also require a riser to use on an AR-15.
5. Aimpoint ACO.  Click here for direct link.
At this point I might be straining the definition of "bargain red dot".  But at less than $400 this is a wonderful option, even if it is an entry level Aimpoint.  Clarity is excellent, and the optic itself is extremely durable and dependable.  Sometimes this goes on sale and drops into the mid $300 range, making it a solid option for someone that wants a simple but reliable option for defense or competition.
6. Aimpoint PRO.  Click here for direct link.
The Aimpoint PRO is very hard to beat.  It has many of the same features as the Aimpoint CompML for a smaller price tag (about $150 less).  Like the Aimpoint ACO, it comes with the mount.  The Aimpoint Patrol Rifle Optic is extremely durable and has a battery life of approximately 30,000 hours.  I've had one for several years now and have had no trouble at all despite the fact that it has taken more than its fair share of bumps.  If one is diligent and keeps an eye on the Primary Arms or Palmetto State Armory websites, this optic will go on sale below $400.  I got mine for $399 and no shipping fee.  It's really hard to go wrong with the PRO.  I prefer it over any EOTech because I prefer the simple, clean dot.  The mount is very rugged and secure.  If the size of the mount knob is not something that you can live with, I would recommend the ACO.  Though I initially though the large knob on the side of the mount would be an issue, it turned out not to be.
Bargain Variable Power Scopes with Illuminated Reticles
Red dots scopes are wonderful for quick target acquisition.  They are simple to use and are very effective in various conditions.  They are especially useful in low light conditions.  However, I find the most versatile scope for an AR-15 to be the 1×4 or 1×6 scopes with an illuminated reticle.
1.Primary Arms 1×4 Illuminated Reticle.  Click here for direct link.
For these scopes I recommend the Primary Arms Deluxe Extended AR15 mount for those looking to keep costs low.  My personal choice for a mount is the Burris P.E.P.R Quick Detach.  This scope has served me well for years and I recommend it with confidence.  It's a very simple scope but does include an illuminated reticle.  The reticle illumination is hard to see in bright light, but is really helpful in low light, which is where it is needed.  For the money, this is very difficult to beat.
What I like about these variable scopes is that they can be set to 1x and used in the same manner as a red dot.  Acquisition is still very fast, but the option to zoom in on objects that are at a distance (100 or 200 yards) is a really nice feature.  A rifle equipped with a variable 1×4 or 1×6 optic would be suitable for many uses, whether it be competition, home defense, or even deer hunting.
2. Primary Arms 1×6.  Click here for direct link.
This scope has it all.  It has a reticle with illumination as well as a bullet drop compensator.  Just a couple years ago, 1×6 scope options were few and far between.  What was available was extremely expensive.  However, I believe that more 1×6 scopes will become available and eventually eclipse the 1×4 options.
The new Primary Arms 1×6 has was is referred to as the Advanced Combined Sighting System (ACSS) sighting system.  The horseshoe shaped illuminate reticle makes short range engagements easier when the scope is set on 1x.  In this manner, it is used just like a red dot sight.  For objects that are further away, the bullet drop compensation reticle works for multiple calibers including .223, .308 and .5.45×39.  The diagram below shows how the reticle works.
This is an extremely versatile scope for $270.  Granted, one must also buy a mount.  But for the price it is very hard to beat.  While I have used many red dots and still have them mounted on several of my rifles, I've been slowly moving toward the 1×4 and 1×6 scopes due to their superior versatility.
3. Vortex Strike Eagle 1×6.  Click here for direct link.
The Vortex Strike Eagle has received a tremendous amount of positive reviews.  It is on the short list of variable scopes that I would like to purchase for myself.  At $330 it is a little more expensive than the Primary Arms 1×6.  However, the consensus seems to be that it is a bit clearer than the Primary Arms.  The Strike Eagle also features an illuminated bullet drop compensated reticle.  The diagram below shows how it works:
Photo source and additional explanation for the reticle can be found here.
Bargain Scopes for Longer Ranges and Precision .22LR
1.Nikon Nikon 3-12×42 Side Focus BDC.  Direct link here.
When it comes to good scopes for hunting, my personal preference is the Nikon Monarch line.  The scope I'm using on my suppressed Remington 300 Blackout is the Nikon 3-12×42 Side Focus BDC.  It is extremely clear and the side focus is a very convenient feature.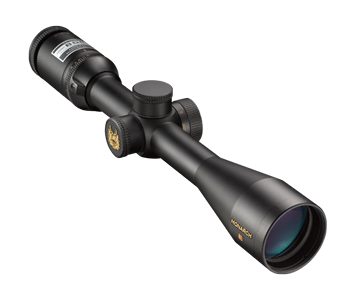 This scope is something I would recommend for most hunting applications as the zoom is sufficient for longer ranges.  It's a really good idea to spring for a decent piece of glass for deer hunting simply because (at least in my area) most of the deer I've harvested have been right after sunrise or right before sundown.  The better quality glass will be brighter and clearer and allow more precise shooting in low light.
2. SWFA SS 10×42 Tactical 30mm.  Direct link here.
Photo source here.
These scopes were originally made by Tasco.  But for whatever reason, they were much better quality than the usual offerings from Tasco.  For several years, these scopes were reasonably priced and very desirable.  Unfortunately, the quality control began to slip.  SWFA bought the rights to the scope and brought the quality back in line with the original quality.  I can personally confirm that this scope works very well as I used one of the old Tasco models in an F Class rifle competition at Camp Butner.  The distances were 600 and 1,000 yards.  The 10x magnification was sufficient, even at 1,000 yards.  In some instances, such as hot days when there is substantial mirage, a higher power scope may have a point of diminishing returns.  The more you zoom in, the worse the mirage can sometimes be.
3. Mueller 8-32×44 Side Focus.  Direct link here.
If you want a reasonable priced scope that provides a lot of magnification, look no further than the Mueller 8-32×44.  This scope works well on everything from high powered centerfire rifles to precision rimfire rifles.  I have installed one on a friends rifle and was very impressed.  Currently, several of my friends use them for precision .22LR scopes.  I've got a 8.5-25×44 that I've had for several years.  It holds zero very well, but the eye relief is a bit sensitive.  Mueller seems to have improved that with the 32x line, and I found the 32x scope was easier to obtain a sight picture than my 25x scope.
Considering that the Weaver 36x that many people use for rimfire benchrest competitions is north of $400, this scope is definitely something one should consider at the $280.
4. Mueller APT 4.5-14×44 Tactical.  Direct link here.
Yes, the scope has the word "tactical" in its name.  Let's try not to hold that against it, as this is a very versatile scope that deserves consideration.  For an all purpose scope, this one is very hard to beat.  It's less than $200 and makes a great scope for rimfire or centerfire rifles.  It's also a fine optic for hunting.  The clarity is excellent and on par with scopes that cost twice as much.  Mueller is a great brand and for reasons I don't understand, has not received the recognition it deserves.  However, those in the know use them and highly recommend them.  If I were building a rimfire rifle for plinking at the range and varmint hunting, I would be pressed to find a better option.
Further Reading
If you want to know more about optics for AR-15s, there are some great resources at AR15.com.  I would recommend checking out the Optics forum as well as these other links:
The FAQ thread has links to many other topics that may help one make a decision on which optics to consider buying.  There is a wealth of information there.
Safe and Happy Shooting,
SOTG